AEROACOUSTICS
AIRCRAFT SYSTEMS
Aircraft Payload Extender Products for Cessna Aircraft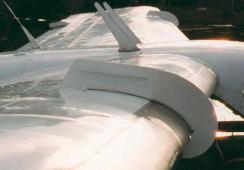 APE II Takeoff Gross Weight Increase System Incorporates Leading Edge Stall Fences
AeroAcoustics Aircraft Systems, Inc. provides performance improvement products for Cessna Caravan aircraft. Our products are designed to enhance the payload capability of the Caravan hence the name Aircraft Payload Extender or APE for short. Among the products we offer are kits that increase the maximum takeoff weight and maximum landing weight. In addition to the Caravan, we now offer APE kits for other aircraft.
APE kits are installed on over aircraft throughout the world. APE equipped aircraft have been in continuous operation since the creation of the company in 1994.
All APE products are approved by FAA Supplemental Type Certificates (STC) and are manufactured under our FAA Parts Manufacturing Authority (PMA). APE systems are sold as a kit and carefully engineered to ensure easy installation on the aircraft.
Over APE Installations Worldwide
AeroAcoustics Aircraft Systems, Inc.
9802 29th Ave W, Hangar B-104
Everett, WA 98204
USA
Toll Free USA: 855.APE.KITS (855.273.5487)
International: 425.438.0215
Fax: 425.438.0275
Sales: sales@aeroacoustics.com
Product Support: support@aeroacoustics.com
© 2004-2021 AeroAcoustics Aircraft Systems, Inc. All Rights Reserved